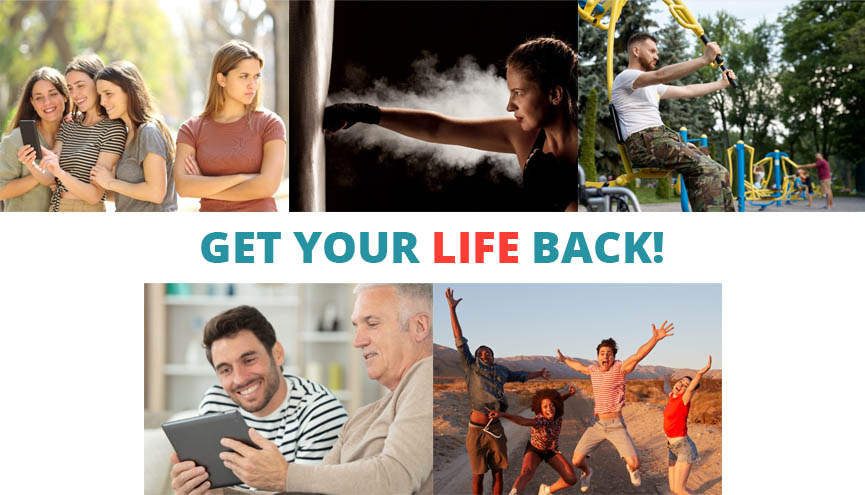 Refocus-On-U presents Nedley Depression & Anxiety and Optimize Your Brain. Both courses will maximize your intellectual and emotional intelligence and give you HOPE!
1. Depression & Anxiety (DARP) – 8 weeks
Learn how to improve your brain
Enhance your energy levels and mood
Overcome depression and anxiety through positive lifestyle choices and right thinking
Manage stress without distress
Eat for optimal brain function
Achieve peak mental performance
Live above loss
2. Optimize Your Brain (OYB)- 6 weeks
Improve and manage relationships successfully
Expand your capacity to learn, retain, and apply knowledge
Develop originality that is useful to others
Find and live your sense of purpose
Set and achieve high goals
Increase motivation
Boost creativity
Enhance overall life satisfaction
To learn more about our Free introductory courses offered on how you can get your life back or optimize your brain, please contact Malinda Peart via email (malindap@refocusonu.org); tele: 951-582-5880 or schedule a group or Free 1-hour consultation on Calendly.
Sign Up Today!
To deal with minds is the greatest work ever committed to men………

Accept the Diagnosis, Not the Prognosis!
Get Your Life Back (Depression & Anxiety course)
14 Dec 2022/ 10am- 11am (PST)
15 Dec 2022/ 4pm-5pm (PST)
19 Dec 2022/ 3pm – 4pm (PST)
27 Dec 2022/ 10am- 11am (PST)
08 Jan 2023/ 3pm-4pm (PST)
11 Jan 2023/10am- 11am (PST)
19 Jan 2023/12pm-1pm (PST)
24 Jan2023/4pm-5pm (PST)
07 Feb 2023/2pm-3pm (PST)
*12 Feb 2023/3pm-4pm (PST) (online via zoom)
15 Feb 2023/12pm-1pm (PST)
*17 Feb 2023/ 10am-11am (online via zoom)
22 Feb 2023/ 1pm-2pm (PST)
*26 Feb 2023/ 4pm-5pm (PST) (online via zoom)
Optimizing Your Brain
15 Jan 2023/ 3pm-4pm (PST)
22 Jan 2023/ 3pm-4pm (PST)
26 Jan 2023/12pm-1pm (PST)
29 Jan 2023/3pm- 4pm (PST)
02 Feb 2023/12pm-1pm (PST)
*10 Feb 2023/4pm-5pm (online via zoom) (PST)
23 Feb 2023/ 10am- 11am (PST)
*26 Feb 2023/ 1pm – 2pm (PST) (online via zoom)
*11 Mar 2023/2:30pm-3:30pm (PST) (online via zoom)
19 Mar 2023/2pm-3pm (PST)
*29 Mar 2023/ 4pm-5pm (PST) (online via zoom)
*Introductory course in bold will be offered online via zoom
PST (Pacific Standard Time zone)